View all posts
Synergy Bank Awarded 2019 BIG Achiever Award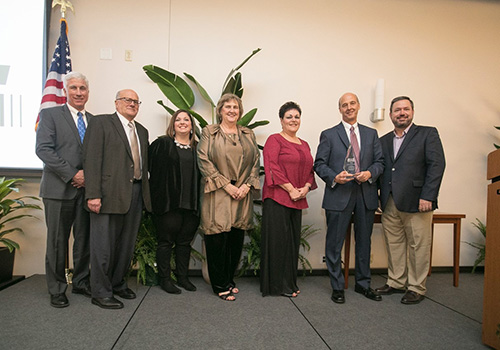 Photograph: (left to right) Benjamin D. Borne, Wade J. Richard, Kassie Barrancotto, Patrice Oncale, Angela Rodrigue, Jerry P. Ledet and Michael Duplantis
Houma, LA – Synergy Bank was recently awarded the Bayou Industrial Group's (BIG) 2019 BIG Achiever Award at their annual banquet on February 12, 2019. Synergy was recognized for numerous programs that it has implemented in the community such as the Partners in Education financial literacy program, the Pack the Bus school supply drive, and the bank's long and strong support of the Bayou Industrial Group Scholarship Program.
"Bayou Industrial Group is proud to have so many of our members generously contribute their time, talents and treasures to strengthen our Bayou Region and make it a vibrant community to build a business and raise a family," said 2019 BIG President Michael Duplantis. "Our 2019 Company BIG Achiever Synergy Bank exemplifies this commitment to promote the prosperity of our community."
"Synergy Bank is a proud to support the Bayou Region through our involvement with many business, civic and philanthropic organizations," said President and CEO Jerry Ledet. "Giving back to our community, whether through volunteerism or monetary donations, is deeply rooted in our core values and the mission of the bank."
The BIG Achiever award recognizes companies that exemplify BIG's mission to grow and strengthen the Bayou Region through their voluntary efforts and investments in coastal restoration/protection, infrastructure, education, economic development, and/or community development. One award is presented to an individual member and another to a company member each year.
Synergy Bank is a locally owned community bank. As of December 31, 2019, the company's total assets equaled $514 million. Synergy Bank is actively involved in over 100 local organizations in the Bayou with a focus on education, economic development, and infrastructure. Further information on the bank may be obtained from its website at www.banksynergy.com.
Bayou Industrial Group is a non-profit, non-partisan organization committed to the growth and sustainability of business and industry in the Bayou Region. Members include companies, advocacy organizations, government agencies and individuals in Lafourche, Terrebonne, Assumption and St. Mary Parishes.
Contact:
Jerry Ledet
985-851-3341