We've got all the tech that the big banks have — but with a more personal touch.
Setting Up NSF Alerts
Turning Off Your Debit Card
Raising Your Spending Limits
Making P2P Payments
Bank anywhere you have internet access — 24/7. If you have a Synergy Bank account, you can easily sign up for online banking today. You will be prompted to enter your personal information, answer some questions from your credit history, establish your security questions, and set up your username and passwords.
Online Banking
Manage bank accounts from your own computer1
Free, secure, and easy-to-use service for Synergy Bank customers
Manage a number of banking activities anytime, anywhere with internet access:

Access electronic statements
View account balances and history
Transfer funds between accounts (one-time and recurring transfers)
View checks written
Make loan payments
And more

Make more time for yourself; fewer bank trips necessary
Set up your Personal Financial Management System
Encrypted service to keep information secure
You can also manage your debit card through online banking. Learn more.
How to Make an External Transfer
You can transfer money between your Synergy Bank account and accounts you own at other financial institutions.
To set up your external account transfers, please follow these easy steps:
Sign into online banking. Click the 'Move money' on the left sidebar, then click the 'New Transaction' on the right of the page.
You will be prompted to select which account you are moving the money from and then you will need to add 'a new payee'. You will need to select the external account.
You will need to enter the account name, account number, and routing number. For security, you will have to verify that you are the account owner of those accounts.
How to Send Person-to-Person Payments
Synergy's P2P payments are easy, convenient and free. See our tutorial on how to send P2P payments (PDF).
How to Set Up Account Alerts
Account alerts are a great way to manage your account and protect against fraud. You can receive alerts via email and/or text message. In order to receive alerts via text message, you must add your device to your online banking profile and turn on SMS text alerts for that device.
See a tutorial on adding a device to your online banking profile and turning on text alerts (PDF).
There are several account alerts you can receive via email and/or text message. See a tutorial on managing account alerts (PDF).
Bill Pay
Free service available to all online banking users
Pay one-time or recurring bills with ease:

Schedule payments in advance
Set up automatic recurring payments
Set up payment reminders

Have all payee information in one convenient place
Reduce paper waste
Save on postage fees
Operating Systems Certified: Windows 7, Windows 8; Supported: Windows 10, Windows Vista, Mac OS 10.7 and above
Browsers Certified: Internet Explorer 9-11 (32-bit); Supported: Internet Explorer 9-11 (64-bit), Edge Browser, Mozilla Firefox (Current Version), Google Chrome (Current Version), Apple Safari 6+ (Mac OS Only)
eStatements: Adobe Acrobat Reader Version 7.0 minimum required.
Bank on the go, anytime, for free. Get started by downloading our app for your iPhone®, iPad®, or Android™ device.
Mobile Banking
Fast, free, and secure service for Synergy Bank customers1
Easily keep track of your finances on the go:

Check account balances
View recent transactions
Transfer funds between accounts
Receive alerts
Pay bills
Deposit checks
And more

Available via any web-enabled cell phone or mobile device
Utilize this service in three convenient ways:
Save valuable time and effort; avoid an extra trip to a branch
You can also manage your debit card through online banking. Learn more.
How to Use Text Banking
Text banking allows you access to your account at Synergy Bank through your mobile phone by simply texting a code to 662265.
In order to use text banking, you must activate the service through online banking. See this PDF tutorial to learn how to activate our text banking service.
Text one of these codes to 662265 to receive information about your account on your phone.
Codes to text and what they mean:
BAL – Balance
ACT – Account Activity
HELP – General Help
STOP – Stop this service
CMD – Will give you a list of the available commands
Mobile Deposit
Deposit checks wherever you are
Free services available through our mobile banking app1
Easy to use — almost as simple as sending a photo
Encrypted for your security, even if your phone is lost or stolen
How to Use Mobile Deposit
Mobile deposit is available in the free Synergy Bank mobile app for Apple® and Android devices.2
Download our mobile app.
Ensure that the check is made payable to you, the account holder.
Important: On the back of the check, include the following: "Mobile Deposit to Synergy Bank", endorsement (signature) and the account number. For optimal image quality, use black ink.
Open up Synergy Bank's mobile app and log in.
Select the Deposits tab and follow the prompts on your screen.
We recommend that you keep the check at least 5 calendar days from the date the check has posted to your account.
Checks received for deposit are subject to the provisions of the Uniform Commercial Code or any applicable collection agreement. All items received are subject to conditions and terms stated in the Mobile Deposit Disclosure and Funds Availability Policy provided on your account. Checks deposited after 6:00 p.m. (CDT) will be processed on the following banking day. Some deposits may not be available for immediate withdrawal.
1Wireless carrier fees may apply. Enrollment not available on all devices. Check your wireless carrier agreement for details. To access Mobile Banking, you must enroll in Synergy Bank's Online Banking.
2Apple, the Apple logo, iPad, and iPhone are trademarks of Apple Inc., registered in the U.S. and other countries. App Store is a service mark of Apple Inc. Android is a trademark of Google Inc.
Save money and reduce paper clutter with free eStatements. They contain the same information as paper statements.
Save paper and save the environment
Fast, free, and easy alternative to paper statements
Easier to retrieve info when needed
Eliminate a paper trail
Reduce chances of fraud and identity theft
Arrive faster than paper statements
Simplify recordkeeping
Easily access past statements
Ability to download for permanent storage or print if needed
Receive email notice when new eStatement is ready
Setting up eStatements
See a tutorial on how to set up eStatements (PDF).
Accessing eStatements
Your statements are found on the 'Documents' tab. Select 'Document Types' from the pop-up window. Select 'Statements.' Select the date range for the statements you want to view. Click 'Apply.'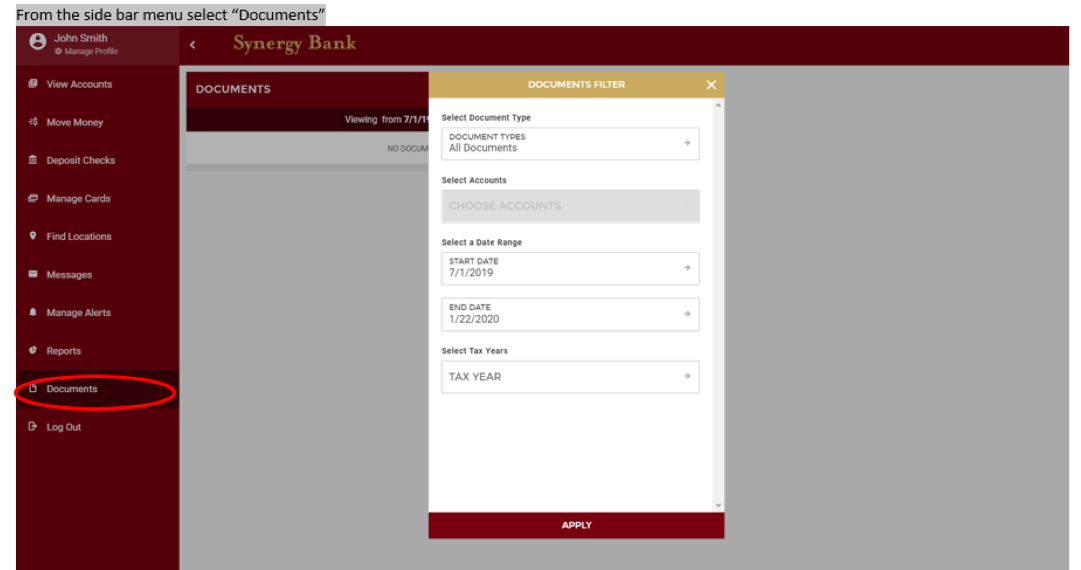 A great new feature of Synergy Online Banking is the Personal Financial Management System. This can be found at the bottom right of online banking.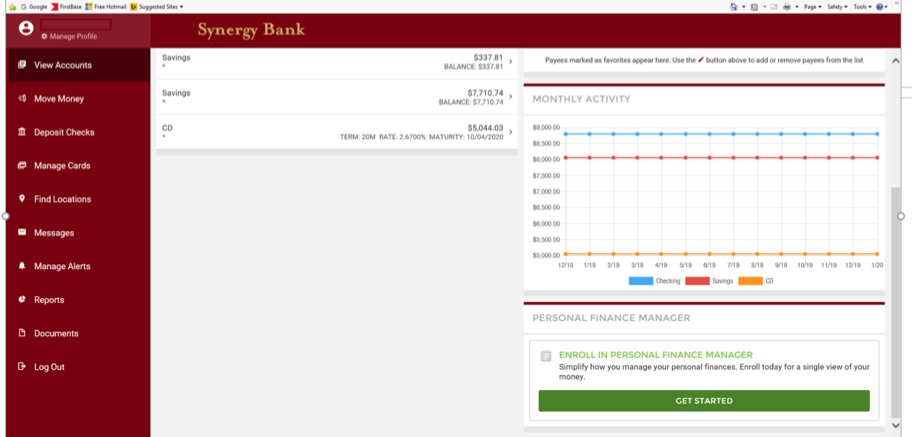 You can manage your financial data with tools to help track expenses and goal progress all through online banking.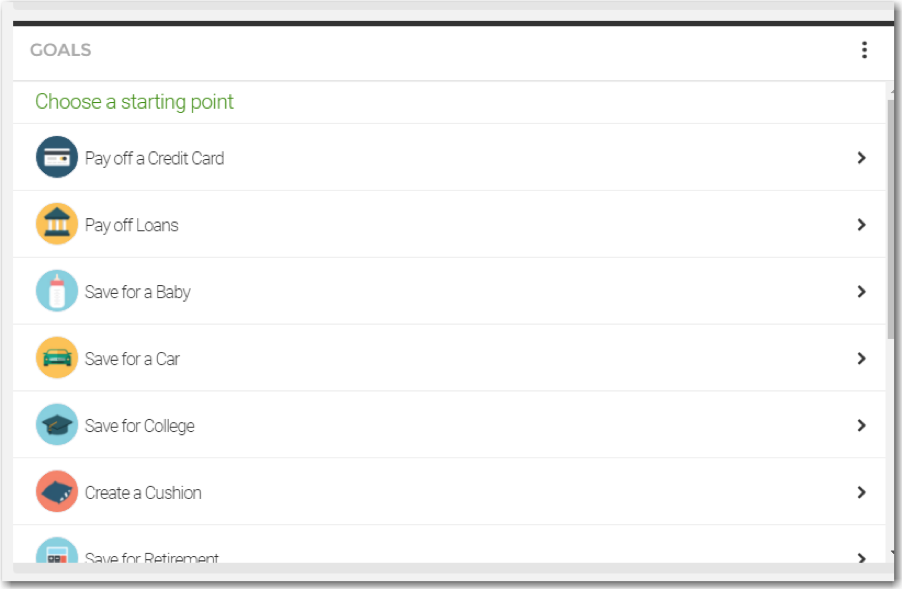 You can add your credit cards and other financial institutions to help you track your progress toward your goals that you've set.
Apple, the Apple logo, Apple Pay, Apple Watch, Face ID, iPad, iPhone, iTunes, Mac, Safari, and Touch ID are trademarks of Apple Inc., registered in the U.S. and other countries. iPad Pro is a trademark of Apple Inc. 1Google Pay is a trademark of Google LLC. Google Pay works on Android devices running Android Lollipop 5.0 or above. Samsung Pay is a trademark of Samsung Electronics Co., Ltd. Use only in accordance with law. Contact your bank or financial institution to verify that it is a Samsung Pay participant. Samsung Pay is available on select Samsung devices. The Contactless Symbol and Contactless Indicator are trademarks owned by and used with the permission of EMVCo, LLC.