View all posts
Help Synergy Bank & United Way Pack The Bus!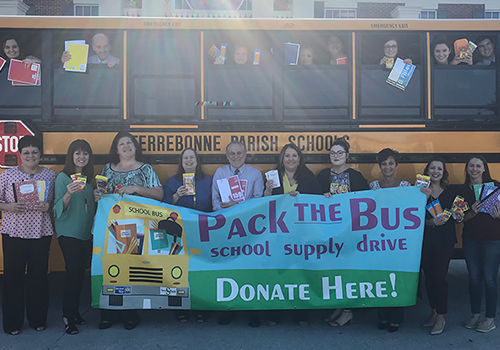 Synergy Bank and United Way are proud to host the eighth annual Pack the Bus School Supply Drive!
During the month of July, the community is invited to donate new school supplies to any Pack The Bus Drop Off Location, which includes all Synergy Bank locations. All supplies that are collected will be split into donations for Terrebonne and Lafourche Parish schools to be given to students in need throughout the year.
"The last two years have placed a great strain on families in our community," said United Way Executive Director Alina Merlos. "Pack the Bus School Supply Drive will help provide necessary school supplies for children who need them most. Having the proper school supplies during the year can help students thrive and excel."
While all school supply donations are appreciated, the most requested items include 24-pack of crayons, single subject spiral notebooks (college and wide rule), pencils, 3 prong pocket folders, glue sticks, pink pearl erasers, pencil colors, Kleenex, paper towels, Loose leaf paper (wide and college rule), 1-inch binders, backpacks, and expo markers.
Over the last eight years, Pack the Bus School Supply Drive has delivered hundreds of thousands of individual school supply items to be used in our community. We are proud to continue this wonderful project to help local schools, teachers, and students.
"Synergy Bank is proud to partner with United Way to once again host the Pack the Bus School Supply Drive," Jerry Ledet, Synergy Bank President and CEO, said. "The supplies collected can provide students with the tools they need to have a successful school year."
Click here for an updated list of drop off locations, as well as most needed school supply items and contact information if you know of a student in need of school supplies.