View all posts
Synergy Named Best Bank and Best Mortgage Lender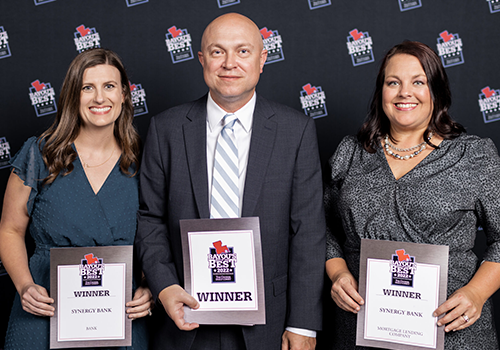 Synergy Bank has been named Best Bank and Best Mortgage Lender in the Bayou's Best of the Best 2022 Contest.
"We are honored to be voted as our community's Best Bank and Best Mortgage Lender for another year," Synergy Bank President and CEO Jerry Ledet said. "Our team is dedicated to providing great service – both to our customers within the bank and by volunteering in our community. We are proud of their hard work and passion that allows us to earn these recognitions."
The annual contest hosted by The Courier and Daily Comet asks the community to nominate and vote for their favorite businesses in a variety of categories. Synergy was also named the Top 3 finalists in the categories of Best Customer Service, Best Investment Services, and Best Place to Work.
"We are humbled and grateful for the support and the trust our customers have placed in us," Jerry said. "We are looking forward to living up to these titles today and every day!"