View all posts
Young Entrepreneurs Participate in Bayou Lemonade Day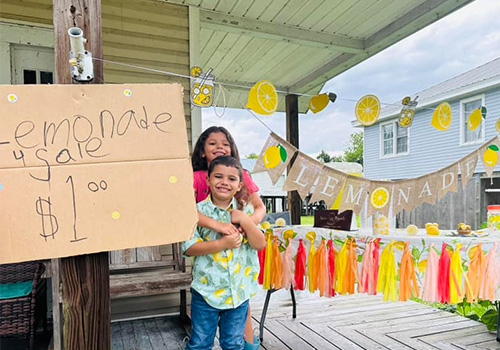 More than 100 young local entrepreneurs participated in Bayou Lemonade Day over the weekend. The event is part of a statewide initiative designed to teach children how to start, own, and operate their own lemonade business.
Putting a twist on the event, Bayou Lemonade Day focuses on providing children in Terrebonne and Lafourche Parishes with tools needed to have a successful lemonade stand. Community partners Synergy Bank, Raising Cane's, Rouses Market, Terrebonne Parish Library, and Lafourche Parish Library work together to create a Bayou Lemonade Day Kit which includes a child's apron, money bag, cups, lemonade, a how-to-guide, and other fun items for kids to use at their stand.
"Lemonaders" also got a lesson in flexibility and overcoming challenges when unexpected weather rolled in early Saturday. While some opted to open their stands later, change locations, or even open again on Sunday – these entrepreneurs worked hard to showcase their lemonade for their communities.
Multiple random prizes were handed out throughout the day from Synergy Bank, Rouses Market, Terrebonne Parish Library, and Raising Cane's. Winner of the Best Decorated Stand prize was awarded to Baby Bird's Lemonade. They received a prize pack that included a $50 VISA® gift card from Synergy Bank, $50 Rouses Market gift card, $50 Raising Canes gift card and prize basket, and tote bags filled with prizes from the Terrebonne Parish Library.
"Having a lemonade stand teaches financial responsibility while also shaping our future entrepreneurs and business leaders, community volunteers, and forward-thinking citizens of tomorrow," Jerry Ledet, Synergy Bank President and CEO, said. "We are proud to sponsor such a wonderful event in our community."