View all posts
Synergy Bank Named National Community Bank Service Award Recipient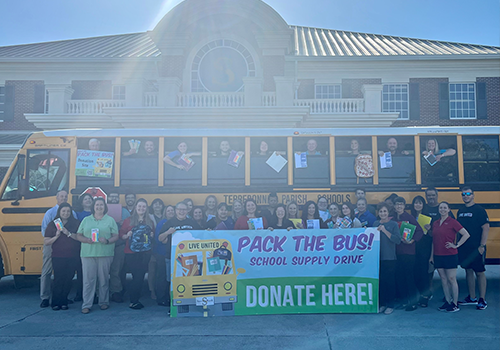 Independent Community Bankers of America announced winners of its 2023 National Community Bank Service Awards in recognition of the creative and exemplary efforts of the nation's community banks to help their local economies flourish and to give back to their communities. Synergy Bank was one of five (5) financial institutions recognized and received Honorable Mention status for their Pack the Bus School Supply Drive.
"ICBA celebrates our 2023 National Community Bank Service Award winners and is honored to share these inspirational stories, which demonstrate the resourcefulness and unwavering commitment of local community banks to the customers and communities they serve—most notably during times of need," ICBA President and CEO Rebeca Romero Rainey said. "These acts of service are a poignant reminder of why community banks are different and are central to ensuring strong and resilient communities nationwide."
This summer, Synergy Bank and United Way of South Louisiana hosted their 9th annual school supply drive benefiting Terrebonne and Lafourche Parish children in need. With the help of the community, thousands of school supply items were collected for distribution through the school districts.
In addition, Synergy was recognized for giving back to their community through volunteering. Team Synergy volunteers hundreds of hours to nonprofit organizations each year. In 2022, Synergy employees provided 517 volunteers to 35 local nonprofit events in our communities. On average, Team Synergy volunteered nearly 1,050 hours last year.
"Service is one of our Core Values at Synergy Bank," Jerry Ledet, Synergy Bank President and CEO, said. "We are proud of our team members who not only provide excellent service to our customers within our bank, but who also go above and beyond to be of service to others within our community by volunteering and leading efforts such as our Pack the Bus school supply drive."